Carson Sign Company
View Gallery
Attract more customers, improve their experience, and grow your business with attractive, eye-catching custom signs and graphics crafted by your local Carson sign company, Podium Designs!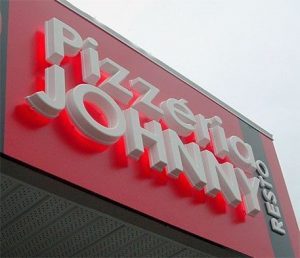 Using a blend of cohesive indoor and outdoor signage will pique the curiosity of motorists and passersby and entice them to see what products and services you offer. Having professionally made signage also provides you with the perfect opportunity to introduce your brand to your community and how your products and services will make their lives better.
However, with mediocre signs made by ordinary sign companies, your target audience will pass by, unaware as they go about their daily lives. You need to partner with a professional signage company who knows how to engage even the most distracted customer and entice them to see what you have to offer.
Podium Designs can help you do just that! We have a proven track record of delivering affordable signage solutions to both big and small business owners, and we are eager to show you how our solutions will help you.
Call Podium Designs today at (562) 213-9300 for your Free Consultation with a Signs & Graphics expert!
Signs That Work For You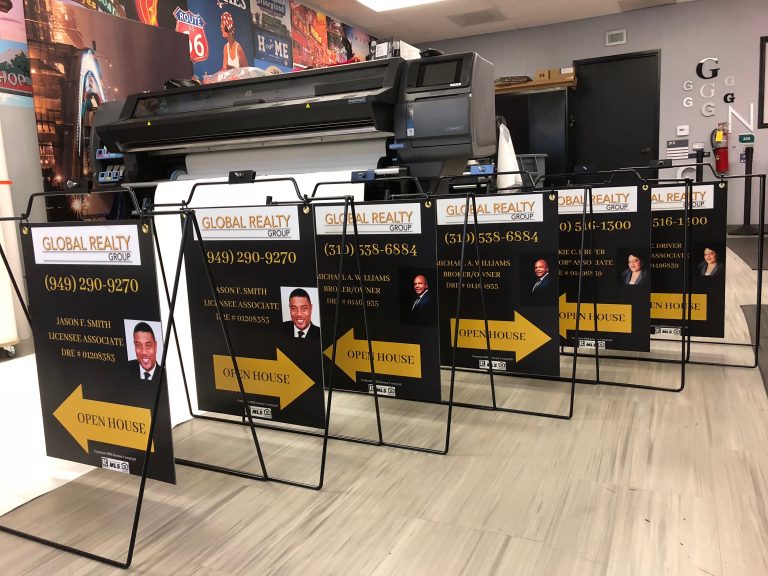 Podium Designs assists with all of your business sign needs and services, including sign design, manufacturing, installation, even sign repairs. We do all our work here locally in our state-of-the-art sign shop here in Carson. Our knowledgeable, dedicated professionals are eager to create the signs you want, utilizing your brand, logo, and ideas that take your vision and turn it into a reality.
Whether you are looking to build that professional image branded vehicle wraps, engage customers with an attractive storefront sign, or assist your customers in finding the departments or products they want, Podium Designs has the sign and graphic solutions you need to do just that.
Our creative and industrious staff is eager to create a professional image for your business through the use of attractive, impactful signs and graphics. Creating a professional corporate image is one of the most important steps any company can take when working towards market success, especially in today's competitive market, and Podium Designs is here to help you create the image you have always wanted.
The Right Signage For Your Business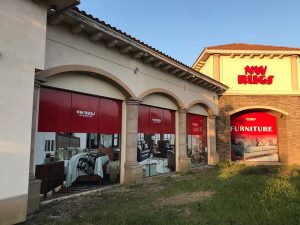 Every business is unique and has it's unique signage needs; however, most businesses have similar needs such as retail stores, professional service/office buildings, manufacturers, service providers, even non-profit organizations. Being fortunate enough to work alongside all of these industries, the insight we have gained allows us to understand how each industry utilizes their facilities to attract, assist, and engage new customers, clients, and guests. Our team is skilled at quickly identifying and making the appropriate recommendations you need to help you accomplish those goals and much more!
When you want to improve customer brand recognition and attract your target audience, the signage you choose will determine how successful you are when accomplishing those goals. Your storefront signs, promotional displays, even your restroom signage, all have an impact on how you achieve your set goals. With cohesive, professionally made signage that utilizes your branding guidelines, such as your logo, fonts, and colors, you can not only attract your target audience but also inform your audience about who you are and what you have to offer in an attractive, professional way.
Great exterior signage is the #1 reason people stop into a local business they have never been to before. (International Sign Association, 2017)
This makes your exterior signage the best place to start promoting and building your brand and business. With eye-catching, impactful exterior signs, you can attract, convert, and retain customers and capitalize on the missed opportunities that mediocre signage would otherwise miss.
From dimensional letters to tenant signs, hanging banners, monument signs, and blade signs, we custom craft the perfect signage to get your business noticed, ultimately resulting in an increase of customer foot traffic, brand recognition, and an improvement to your bottom line!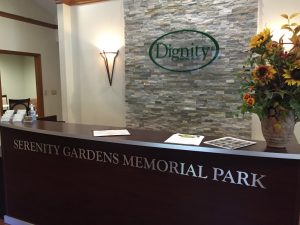 The interior signs you choose will assist you with delivering the promise made by your storefront sign. With cohesive, attractive and impactful signage that utilizes your brand guidelines and message, you will create the professional image that your customers want, while improving their experience, ultimately turning a potential customer into a return customer.
The specific indoor signage blend you may need will largely depend on your business type and needs. Retail stores often employ promotional signage to help target fast moving or high marginal sales, while offices benefit from brand building lobby signage. Manufacturing plants require signage to remind their employees of safe work practices, while schools can always use attractive, engaging educational signs. Whether you want to improve your customer's experience or keep your build employee morale, Podium Designs will deliver the solutions you need for any signage challenge.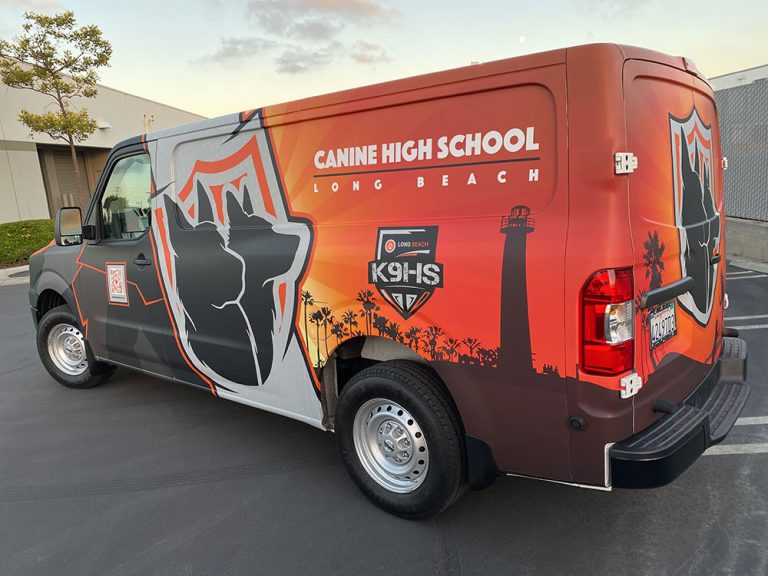 There is no better way to increase brand visibility or complement your branding efforts than with cohesive commercial vehicle wraps. Podium Designs is your local Carson, California sign shop that offers complete design, manufacturing, and installation services for all of your signage needs. We craft eye-catching wraps for all of your commercial vehicles, including work trucks, trailers, vans, semis, as well as non-traditional vehicles such as ATVs and RVs as well as your watercraft ones! No matter where your vehicle goes or where its parked, custom-made high-quality wraps by Podium Designs is a guaranteed way to get your brand noticed!
These wraps are ideal for any service provider making house calls, as well as delivery vehicles, food trucks and any company wanting to increase their visibility.
Impactful vinyl banners, signs, graphics, and wraps supply heightened exposure and client engagement for your organization. When aiming for a method for drawing attention for your business, assisting buyers when navigating your facilities, or need to boost interest in a special event, sale or promotion, our vinyl custom signage professionals provide a customized solutions for your unique brand.
We are your all-inclusive large format vinyl banners and signs agency, delivering your brand high-quality sign and banner printing products and services, including engaging design, professional manufacturing, and final installation. This allows us to easily produce any of the brand-building graphics you desire.
No matter whether it's engaging, high-visibility window graphics, vinyl clings, wraps, decals, lettering or a total vinyl signage collection you have in mind, our vinyl signage pros are ready to handle your project with skill, speed, and we pay attention to even the smallest detail.
At Podium Designs, we believe only a custom-made sign can reflect the hard work you and your business does. With custom signs, you get exactly what you want, including your brand name, fonts, colors, logos, and unique marketing messages, that will separate your business from the other guy. Whether you need an attractive storefront sign, eye-catching window displays, custom ADA signage, or helpful wayfinding signs, Podium Designs has to tools, skills, and resources to create a custom solution to fit your business needs and goals and works within your budget and timeline.
As your leading local sign company, we create the custom signs you need to increase your traffic and brand awareness. Whether you require a single sign or an entire collection of interior and exterior signage, Podium Designs is your reliable signage partner!
Complete Commercial Signage Company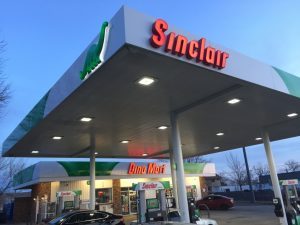 Many signage companies can provide you with signs that can help in a pinch, or require you to have a fully developed concept before they can manufacture your sign. Some even need you to find an outside installation contractor to install their signs. At Podium Designs, we are the complete package. We not only manufacture your signs, but we can also assist you with designing and the installation of your signage project. Our design, fabricators and installation teams help you throughout every stage of your sign project. Everything is right here, in one place!
We focus on providing environmentally friendly signage products by focusing on efficient business and manufacturing practices. Our mission is to deliver the solutions you need while reducing material waste, conserving energy, and saving you both time and money!
When you need quality signage done right, Podium Designs is the dedicated sign company that will deliver the solutions you want and need, helping you reach new marketing goals as you continue to grow your business into the future!
Free Consultation
Every sign project begins with a free consultation. During your consultation with our sign experts, we will discuss your signage needs and goals, focusing on what you want out of your signs. We want to get to know you, your staff, and your business so we can develop a custom sign project that reflects your business accurately. We provide you with a comprehensive quote for your signage project before passing our conversation on to our design team.
Sign Design
After your initial consultation, our graphic design team will review any logos, creatives or other files you may have. Working diligently with you, we will create a design proof that utilizes your branding elements, fonts, colors, as well as any images you may want. This sample provides you with a tangible way to see your vision at work. You can then review, edit and alter anything you wish to ensure that your sign project is exactly as you desire.
Sign Creation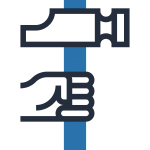 After you approve your project, our experienced fabricators will then begin to craft and prepare your signage elements for installation. Everything is done right here in our state-of-the-art Carson signage facility. We take your project directly from our designers to our fabricators, so everyone works together to ensure your project is 100% accurate. We also provide any additional accessories that your sign may require, such as hanging stands, electrical components, even holders!
Sign Installation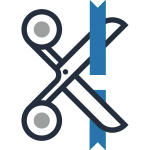 For any sign to work as intended, it needs to be installed correctly. That is why we provide experienced, professional installation. After all, you can have a beautiful sign, but if it hangs crooked, lights up only once in awhile, or not at all, then your sign is doing more damage than good. We want your signage to be a consistent reminder of the high-quality work you will come to depend on from us and a source of pride when someone asks you where you got your fantastic sign!
Our Commitment To You

As your local Carson sign company, Podium Designs, is dedicated to delivering the high-quality, attractive signage that makes a significant impact on how you grow your business.
We are committed to providing excellent customer support and superior solutions that will take your business to the next level. Whether you need custom, vinyl signs or attractive business signs that get your brand noticed in your community and accurately reflects the hard work your business does, Podium Designs is eager to provide you with the solutions you need to accomplish any of your signage goals.
Contact Podium Designs today at (562) 213-9300 for your Free Consultation with a Signs & Graphics expert!