Palos Verdes Peninsula Indoor Signs
VIEW GALLERY
From assisting visitors with wayfinding to reminding employees to wear personal protective gear, your business needs indoor signs to keep operations on track. Regardless of your business type, your indoor signage can have a significant impact on your Palos Verdes Peninsula business.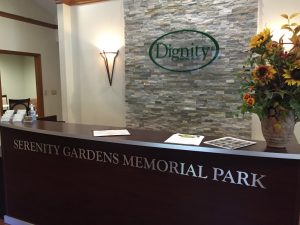 Selecting the right indoor signs and graphics can present a challenge. There are various factors to consider, such as your business signage goals, how your facility is navigated or used, legal requirements, as well as the wear you expect your signs to experience. All of these factors will have an impact on the specific interior signs your facility needs for maximum effectiveness.
Podium Designs not only understands signage, we know to utilize signage to control the flow of traffic through a business, how to keep employees motivated, and how to ensure your brand gets remembered. By focusing on creating eye-catching, impactful signage tailored to your brand, location, and needs, we can assist your business reach new marketing success, taking your business to the next level.
If you aren't sure what signs will best support your goals or are moving to a new location, we can provide on-site evaluations at your location. This allows us to recommend appropriate business signage so your employees, staff, and guests can easily navigate your facility and get the information they need with minimal assistance.
Call Podium Designs at (562) 213-9300 for your Free Consultation with an Indoor Signs Expert!
Interior Signage For Office Buildings
Large office buildings often house several different businesses or have multiple offices for a single company. Either way, this presents a challenge for guests, often leaving your receptionist with the task of assisting each and every visitor find where they need to go. However, properly placed and effective signage is a great way to support visitors while allowing your receptionist to then focus on more important tasks.
From room identification signs to office directories, indoor signage is critical to providing effective wayfinding assistance in any large office complex. With proper placement, your indoor signs will intuitively lead guests and visitors on their way, allowing them to quickly find the office or area they want with minimal support.
Indoor signage is also a fantastic branding tool in the office environment. Logo signs, wall murals, floor signs, even information signs can all be used to share information about your business, brand history, and the products or services you provide. Many companies utilize multiple cohesive signage elements to reinforce their brand and marketing message.
Retail & Restaurant Indoor Signs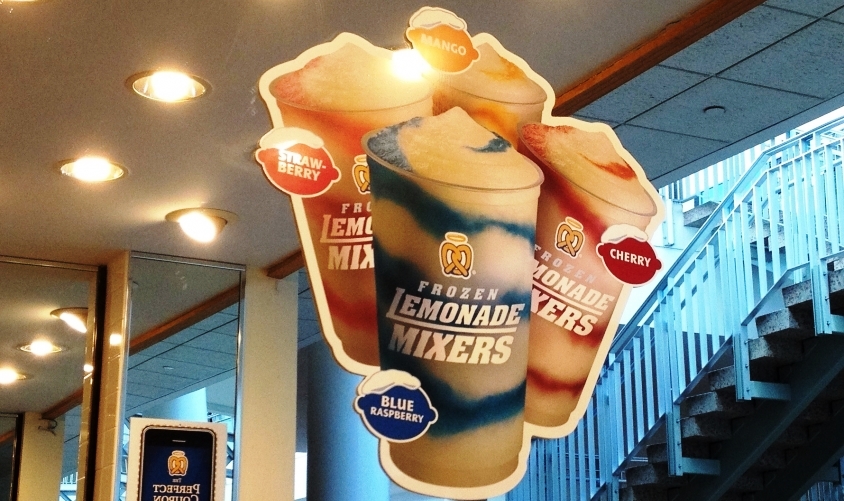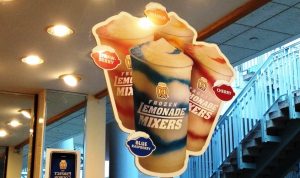 Retail establishments and restaurants also utilize indoor signage. While their indoor signage is often targeted at highlighting or promoting products rather than brand reinforcement, that doesn't mean their branding doesn't play a significant role in wayfinding or promotional signage.
Podium Designs creates eye-catching hanging banners, POP signs, menu boards, product displays, floor vinyl, and more that will not only highlight your products, but by utilizing your colors, fonts, and logo, they will also reinforce your brand throughout your facility. We make it easy for customers to navigate your facility as they look for the products and departments they want. We focus on creating intuitive signage, meaning that we understand your customer's behavior and what they expect from your signage, allowing us to ensure that you are meeting those expectations within your business.
Signs for Warehouses & Manufacturing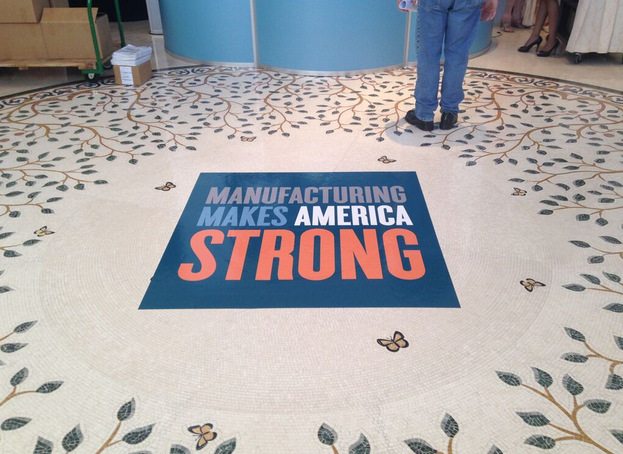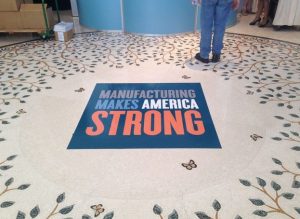 Not every business is open to the public, but that doesn't mean that they don't need impactful and effective indoor signage! Your indoor signage can not only motivate your employees, but also remind them to be safe in hazardous areas, or even tell the story of your brand through vinyl graphics, whatever your goal may be, Podium Designs can create the right signage blend to support your goals.
Wall murals, indoor banners, wayfinding signage, and safety signs all work towards helping you achieve your business goals in reducing the risk of injury and creating a workplace environment that employees will enjoy going to each day. Podium Designs is your local Palos Verdes Peninsula signage partner for impactful manufacturing signs, providing support and guidance, so you get the right sign for all of your business needs.
Cohesive Interior Signs for Business
Consistency throughout all of your marketing and messaging is essential when promoting your brand and building name recognition for your business. By having firm brand guidelines, and referencing them in all of your creative endeavors, you not only obtain that much-needed repetition for your brand to take hold but also provide a complete and professional image of who you are as a company. We create high-quality, attractive lobby signage, directional signs, ADA signage, POP signs, indoor banners, commercial signs, windows signs, and custom signage that perfectly complement your brand and any existing signage.




Do you need design assistance? Our expert Palos Verdes Peninsula, CA sign and graphics team can conceptualize the perfect indoor signs for you, utilizing your existing colors, styles, and fonts, or create new brand guidelines, including a style sheet for you to use moving forward.
Every Indoor Sign Your Business Needs!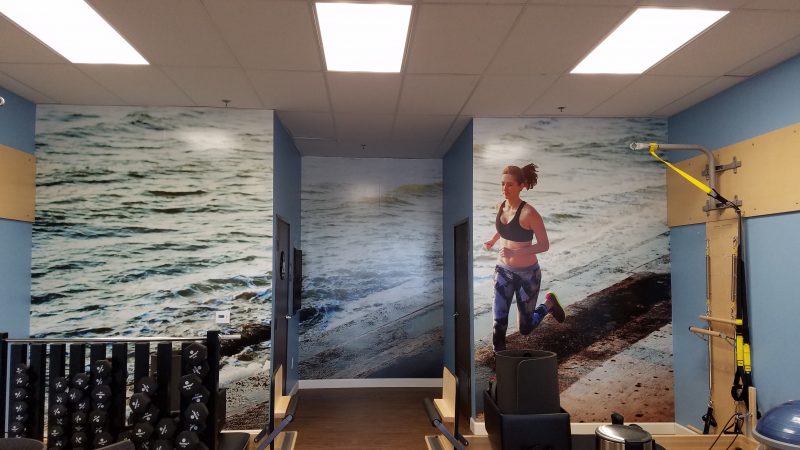 Podium Designs is your source for attractive, cohesive indoor signs and graphics.
From wayfinding signage to ADA signs, we understand the different needs each business and niche has. We consider your physical space, brand personality, and business goals, to create the perfect signage solutions for your unique needs.
If you need a single custom sign, or an entire collection of vinyl signs and graphics for your office, Podium Designs has you covered!
We ensure that your signage solutions are attractive, eye-catching, and produced using environmentally sustainable materials and methods whenever possible.
Our indoor sign services include:
Need exterior signs to match? Do you want to complement your branding efforts with a branded vehicle wrap? We can produce those as well for a complete, branded look both inside and out!
Full-Service Interior Sign Manufacturers
As your local, full-service Palos Verdes Peninsula signage provider, we handle every aspect of your interior sign project. First, we begin by meeting with you to discuss what you want out of your interior signage. If you have existing brand guidelines, we can work from those, or create new brand guidelines and a style sheet for maximum cohesion. Once we understand your signage needs, we will draft a sample of your sign that you can then review and edit as you wish, allowing us to ensure that your project is in-line with your desired styles and meets your needs. Once any edits have been made and you are satisfied and approved your project, your custom sign will then move into production.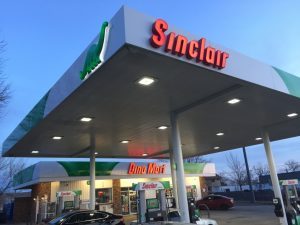 We do all of our production right here locally in Palos Verdes Peninsula, California. We use state-of-the-art equipment and materials to create every custom sign we make.
Finally, we offer complete sign installation services. After all, you can have the most attractive sign, but if it hangs crooked or rarely lights up, then you have turned your fantastic sign into one that is doing more damage than good. Our professional indoor sign installation team will ensure that your sign is secured correctly, stays place for years, and works perfectly in your space.
Free Expert Indoor Sign Consultation

Podium Designs is eager to show you how our custom interior signs can help you achieve market success. Our mission is to provide not only superior signage solutions but also excellent customer support. If you are dissatisfied with your signage for any reason, let us know! If you aren't happy with your signs, then we aren't happy, and we will do everything we can to make it right.
Call Podium Designs at (562) 213-9300 for your Free Consultation with an Indoor Signs Specialist!