Long Beach Vehicle Wraps & Graphics
VIEW GALLERY
Boost your brand and increase your business visibility with custom vehicle wraps and graphics! Podium Designs provides auto wraps, Ad wraps, business car wraps, boat wraps, and more to local businesses looking to improve brand awareness.
Whether you operate out of a single food truck or have a fleet of commercial vehicles, we can create the perfect vinyl wrap for any need. In addition to providing custom design and local manufacturing, Podium Designs also employs a team of vehicle wrap installation techs who are specially trained to ensure your project is perfectly executed.

So whether you are looking for commercial trailer wraps, boat wraps, van wraps, truck wraps, car vinyl graphics, or vehicle graphics, Podium Designs is your local Long Beach sign company!
Call Podium Designs at (562) 213-9300 for a Free Consultation with a Commercial Vehicle Wrap Expert!
Vinyl Graphics & Partial Wraps
Sometimes, full auto-wrapping may not fit your personal or business needs. You can still use your vehicle as a promotional tool by investing in a partial vehicle wrap or vinyl graphic.
Full Vehicle Wraps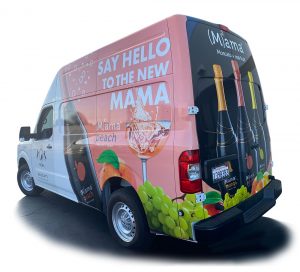 Turn your vehicle into an advertising powerhouse with a complete vehicle wrap, which provides seamless coverage to your car, van, truck, bus, or trailer. These striking, full-color vinyl graphics allow you to customize your look, brand, and message completely. For any business looking to maximize their visibility, a full-auto wrap is your solution!
Our premium-quality heavy-duty vinyl also provides protection, and are ideal for vehicles that are heavily used or for watercraft, including boats, jet skis, and boat trailers!
Partial Car Wraps
Partial car wraps are an excellent option for zoning in on specific areas of your car for promotional purposes. You can use any part of your vehicle, including your side panel, hood, door, bumper, tailgate, or any combination you wish.
Working with the natural lines and joints of your vehicle, we'll apply your car wrap to any surface of your car for that attractive, seamless finish. If you are working on a budget, this can be an excellent solution that offers the look of a full wrap, without the cost.
Vinyl Graphics
Individual vinyl graphics are also used for business promotion and identification. Car vinyl graphics don't offer a completely flush look, as they are cut into the shape of the image you want to be placed on your vehicle, rather than a full sheet of vinyl that a partial wrap uses. This allows for increased flexibility in your design and allows for updating, moving, and changes. You can add to or take away from the graphics as you wish.
Most often, a single logo image or minimal text is best delivered through vinyl graphics.
Perforated Window Film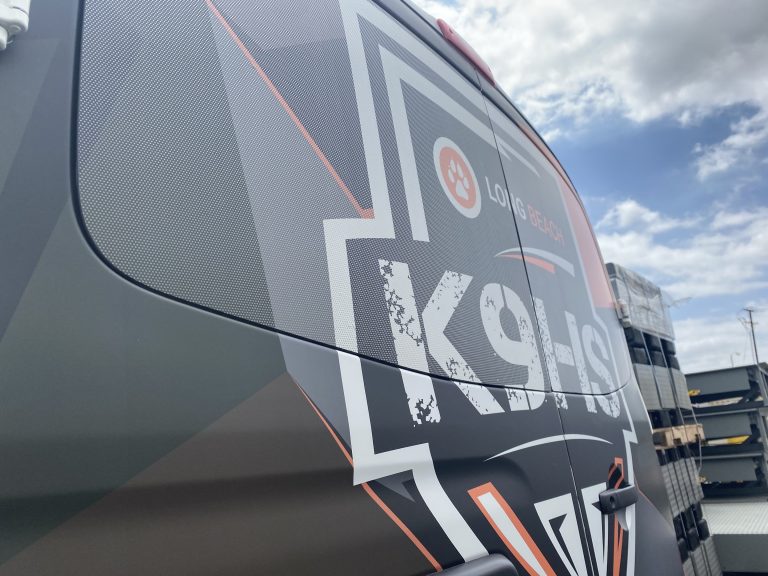 Many companies are now choosing to complement their full auto-wraps or partial wraps with perforated window film. This film offers an ideal surface to print your corporate message without interrupting the visibility of your vehicle inhabitants. This option not only provides privacy to the interior of your vehicle but can be the finishing touch you have always wanted!
Whatever your thoughts or ideas for eye-catching and impactful vehicle wraps or graphics, Podium Designs can't wait to create it for you!
Professionals Wraps For All Vehicle Types
Whether you are in need of cohesive fleet wraps, van wraps, trailer wraps, personal car wraps, or just want a color change, Podium Designs has to skills, resources, and experience to craft the perfect wraps and graphics for your personal or business needs.
Our vehicle wrap experts will discuss your visibility goals and marketing goals, so we not only have a firm understanding of what your final wrap should look like but also your intended use and goals. Once we know what you need, we will develop a custom quote, including any services you require such as wrap design, fabrication, and installation.
Our vehicle wrap services include:
We not only provide vehicle wrap services, Podium Designs also offers high-quality Long Beach, CA business signage for every need, including outdoor signs, indoor signs, and any custom signs you may require!
Attractive Wraps for Your Entire Fleet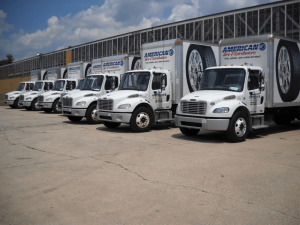 Vinyl wraps are a great way to publicize your business, increase customer confidence and improve your communities perception of your business. If you run a service business where you visit clients at home, like electricians, exterminators, or cable repair teams, people can sometimes hesitate to allow you into their homes. With vinyl wraps, your clients will feel confident that you are who you say you are and feel more comfortable welcoming you into their homes.
As wraps are becoming more popular every day, and across every industry. These wraps continue to be popular options for handymen, cable companies, plumbers, repair techs, delivery vehicles, landscapers, dry cleaners, electricians, tutors, and many others. Every business can benefit from impactful vehicle vinyl graphics or wraps.
Promotional Car Wraps
Every type of business can benefit from promotional vehicle wraps. You attract more attention and publicity for your business simply by going about your daily routine. Our vinyl wraps protect your car, stay beautiful in every weather condition, and contain your personalized business information, making them a smart long-term business investment.
Vehicle wrapping is an ideal solution for any business who doesn't necessarily have a retail location. If you work from home, share office space, or don't have any office space, car graphics, and vehicle wraps can spread the word and build your brand and business!
Are you interested in completely transforming your car? We can even include your windows for that show-stopping, seamless look! Perforated window film is entirely legal and allows you to see perfectly while providing you some privacy.
Custom Boat Wraps
Since we are in California, you can promote your business on the water as well. We provide marine-grade vinyl boat and trailer wraps that will withstand corporate, charter, or personal usage. These wraps are durable and will not wear off in salt water, sand, or fresh water. If you are a marina that provides boat rental services, this is a fantastic option for getting your message out consistently, while providing protection to your investment.
If you don't have a boat but still operate near the beach, we can wrap your trucks, trailers, food trucks, or any other vehicle in the same marine-grade vinyl wrapping!
Boat Identification Numbers
Every boat and other maritime vehicle is required to have identification numbers on the side. And since you want to stay on the right side of the law, we offer vinyl decals that will stay put even under the harshest conditions. We'll print ID numbers, licenses, and the name of your ship in the correct size and ensure that it gets placed correctly.
Boat-based Businesses
Does your business depend on your boat? Then you will not only want your boat to look and feel safe, but also inviting to your guests. Whale watching, charter fishing, parasailing, and other businesses that operate directly from a boat can benefit from the protective layer that our marine-grade vinyl wraps provide.
Even better, the wrapping serves as a marketing tool at all times, even when you are docked.
Your Designs, Perfected
We can also assist you with designed the perfect auto wrap or auto vinyl graphic if you aren't sure where to start or we can work with any idea or file you already have. Custom auto-wraps allow you to place whatever you desire on your vehicles, from a simple image and text to your logo or other branding elements.
During your free consultation, our knowledgeable staff will walk you through all of your options for our attractive, high-quality vehicle wrap design solutions.
Full-Service Vehicle Wrapping
Our hard-working staff at Podium Designs, is here for you throughout the entire vehicle wrapping process.
We start with a free consultation where our experts discuss what you want on your wrap, your vehicle types, and how you want to promote your business. We'll discuss your ideas and ours to come up with specifics for what needs to be on your wrap.
Then our design staff will create a sample of your wrap so you can see exactly what it will look like when installed on your vehicle. You can make any edits you wish, from text changes to where the design is placed on your car. This is your wrap, and we want to make sure you are delighted as you cruise around in the finished product.
After you approve your design, we being fabricated the individual vinyl elements right here in our local Long Beach sign shop.
Once your wrap is finished, our professional installation team will apply your finished product to your vehicle. Our wrap installation specialists will carefully apply it to your vehicle, ensuring that it matches your approved proof and is perfectly aligned and free of any ripples or bubbles.
Free Vehicle Wrap Consultation
Regardless of the coverage you desire, or the fleet size, Podium Designs is ready to deliver the attractive, durable vehicle wrap solutions you need to promote your brand and build your business. From your initial free consultation through professional installation, we are dedicated to ensuring your complete satisfaction.
When you want a reliable Long Beach signage provider that provides the attractive, eye-catching solutions you need to grow your business, you can depend on Podium Designs to be there for you!
Call Podium Designs at (562) 213-9300 for your Free Consultation with a Vehicle Wrap Specialist!